Dialcos was established in 1959 on the outskirts of Padua with the aim of creating innovative products whilst maintaining the traditional flavours. This led to the creation of Naturalbrodo, which later become Dialbrodo, the first granular bouillon mix and the natural alternative to classical "stock cube". Initially recommended and distributed by pharmacists, it soon reached the pantry of Italian families via supermarkets. The special attention paid by Dialcos to the ever-changing needs of consumers has led the company to innovate its products and continually upgrade itself. Hence, alongside the granular stock mix, glutamate-free and organic solutions products were also added on to its list.
In 2006, the ever-increasing demand for quality in the world of gluten-free pasta encouraged the company to take the field. The key to success is, once again, to create special recipes for consumers who follow certain diets without compromising the original flavour.
Quality is a concept that evolves continuously. Since 2016, Dialcos has been specialising even more by combining new ingredients with timeless and classic ones to achieve the balance between innovation and tradition.
Gluten-free products can now be found in many places such as supermarkets, grocery stores and pharmacies. One in 10 now suffers from autoimmune disease celiac disease and has been the springboard to create more outlets for gluten-free products for those suffering from this disease.
Reducing the consumption of cereals containing gluten is good for everyone and is only related to our eating habits. By getting used to varying the daily diet more and balancing nutrition well, you can avoid over-accumulation disorders, from the banal abdominal swelling to the feeling of exhaustion, up to headaches. Improves digestion and avoids irritable bowel syndrome. It reduces the risk of developing food allergies and facilitates the resumption of health in case of diseases. Reducing gluten consumption is also good for sports people. Increases muscle power, optimizes mental concentration and improves physical performance. Attention that, however, many energy bars contain gluten, prefer those based only on dried fruits and oilseeds that give the right energy and nutritional contribution to face physical fatigue without however causing the well-known problems that instead carries gluten.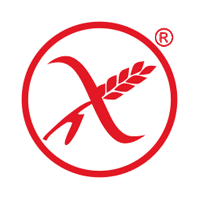 Spiga Barrata – AIC (Associazione Italiana Celiachia)
Il logo della Spiga Barrata è un marchio registrato di proprietà dell'Associazione Italiana Celiachia. Viene concesso esclusivamente alle aziende che superano una rigorosa procedura di controllo sui processi produttivi e sul prodotto finito.
I prodotti che recano questo simbolo sono idonei al consumo da parte dei celiaci, con contenuto di glutine inferiore ai 20ppm (20 mg/kg)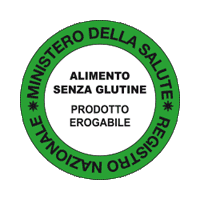 Senza Glutine – Ministero della Salute
Il simbolo "Senza Glutine" è un marchio del Ministero della Salute che garantisce l'erogabilità e la rimborsabilità dei prodotti destinati ad una alimentazione particolare di cui all'art. 7/ del D.M. 8 Giugno 2011.
Agricoltura Biologica – CE (Commissione Europea)
Il logo UE dell'agricoltura biologica dà ai consumatori la sicurezza riguardo l'origine e la qualità degli alimenti e delle bevande. La presenza del logo sui prodotti assicura la conformità con il Regolamento EU sull'agricoltura biologica. Dal luglio del 2010, tutti i prodotti alimentari biologici preconfezionati nell'Unione europea devono recare obbligatoriamente il logo biologico dell'UE.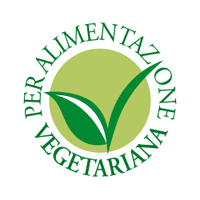 Alimentazione Vegetariana
Simbolo utilizzato da Dialcos per indicare prodotti adatti a coloro che seguono un regime alimentare vegetariano e preparati senza l'utilizzo di ingredienti di origine animale (carne, pollame, pesce o loro derivati, tra cui anche uova). Viene invece ammesso l'uso di ingredienti derivati dal latte (lattosio, sodio caseinato).
Vegan
Il logo Vegan è un marchio registrato di proprietà di Vegan Society. Viene concesso ai prodotti che non contengono ingredienti di origine animale o loro derivati.
Kosher
Il simbolo Kosher viene rilasciato da apposite associazioni rabbiniche a quei prodotti che soddisfano rigorosi standard qualitativi e produttivi, conformi alle restrittive leggi del Kasheruth.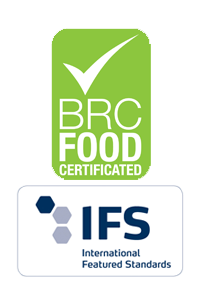 BRC/IFS
BRC (British Retail Consortium) e IFS (Internetional Food Standard) sono due fondamentali standard, a livello internazionale, per la certificazione di qualità nella filiera di fornitura di prodotti alla Grande Distribuzione Organizzata. Il BRC si basa su standard di qualità che interessano l'HACCP, l'ambiente di lavoro e i controlli sul prodotto e processo. Lo standard IFS, invece, è uno standard internazionale condiviso dalle filiere della GDO agroalimentare francese e tedesca. Con esso, si richiedono ai fornitori della filiera il rispetto di alcune norme igieniche e di buone prassi nei processi, valide a garantire un buon livello di sicurezza e di qualità.